All Rug Dusting Uk
---
Our professional cleaning steps are as follow:
Your rugs will be thoroughly inspected prior to any cleaning and/or repair work being carried out.
Dyes will be assessed for stability and rug will be checked for signs of any existing damages.
The most significant step of our rug cleaning process is using a vibrating brush; we will remove any deep built-in dust and sand from the pile of the rug.
Submerged washing takes place using a pH neutral specialised shampoo for rug cleaning. It is very important to use correct shampoo as dyes are sensitive to acid or alcaline solutions
Your rug then will be rinsed, excess water wil be extracted and left to dry naturally.
Only after your rug is completely dry will it be dusted again to remove any remaining grit that has been loosened as a result of the rug cleaning process.
Finally your rug will be brushed up and inspected prior to delivery.
We offer highest quality service for cleaning rugs and pride ourselves on providing an honest, trustworthy and approachable service throughout every aspect of our business.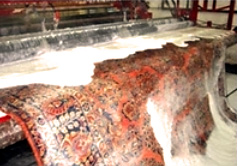 Rugs Dust Removing-Micro-Splitting Technology
Our cleaning devices harness over 40,000 harmonic vibrations per minute to vibrate out the most stubborn soil and sediments caught deep in the fibers of the rug.
In villages and tribal regions where rugs are made, the dirt and sediment is simply beaten out of the rug using a large stick and some elbow grease! This is a great way of extracting the grit out as it breaks the hard, encrusted layer of dirt found deep down in the backing of the rug.
You might have even seen your granny using this method when you were little, before she would quickly notice you were watching her and you would be given the big stick and told, " Do not stop beating until there is no dust coming out ".
Well fortunately times have changed, and this machine is an amazing tool in extracting out the harmful dirt and sediment that you are daily vacuuming just simply can not do.
We simply lay a grid on the floor, placing the rug face down on top of the grid. We then run the RugBadger over the backing of the rug to loosen the soil. The soil falls from the backing of the rug through the pile, through the grid and is collected on the floor. Ensuring that none of the dry soil particles are left on the face of the rug.