FAQ's
Most common questions
Here is our extensive knowledge base on most common questions when you need to repair your rug:
It is impossible to tell without the information about the rug, materials, damage type and extent, and quality of the rug itself. Some masterpiece rugs require master work on them to remove any trace of them ever being damaged. Such tasks require special skill set, time and best materials to do properly. Others can be done fairly easily.
Just take two photos (top and bottom side of the damaged rug) with a regular camera and send them with all the other required information to us. Alternatively, you are most welcome to bring the rug in as this would provide us with a better view of the situation.

Information required:
    Size of the damaged area
    Type of materials (Silk, Wool, etc...)
It usually takes between 1 to 2 weeks for regular repair after we receive your rug. We will inform you when your rug will be ready. We will keep in touch with you throughout the process, to provide peace of mind. Feel free to contact us if you have any concerns.
A: Our expert team is continuously working to deliver an excellent service. Our team members have several years experience of repair and restoration, and re-coloration of rugs, tapestries and other textiles. Many of our employees are descendants of families that were in rug business for generations. All of our repairs are guaranteed for one year and 100% satisfaction.
We have connections and access to authentic dyes and materials from many cities and tribes from where the rugs originate.
A: Yes! We are able to remove the colour bleeding and spots from your rugs.
Our experts are very familiar with most techniques of applying the dyes, organic or artificial, their chemical composition and means of removing them without damaging the textile.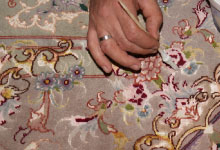 After removing the colour bleed, we re-dye the rug if and where needed.
A: We have had many prior dealings with insurance companies for many years and we have got 100% satisfactory results from our clients, whether the damage was accidental or due to spillage or water flood. In all cases we will be able to help you, our expert repair team can fix the Rugs or we can replace your rugs with one as close as possible to your original.
A: Below are more details of the various problems you might have if you are unfamiliar. Please be aware that the pictures are of possible problems that could occur if not careful.
Problems that can occur with rugs!
The most common problems which occur to rugs that come to our shop are as follows:
Cotton foundation can be weakened and sometimes rotted if the rug is wetted repeatedly and not dried properly. A common cause of such damage is when a potted plant is placed directly on a rug. The plant is watered regularly and if the pot leaks the rug under the pot stays permanently damp. Within a few weeks the foundation of the rug can become so weak that chunks can be pulled from the rug by hand. If you are placing a plant on a rug try to place on a slim leg stool so you can see under the pot and check regularly for leeks.
Cloth Moth and Rug Moths' larvae feed on wool, feathers, fur, hair, leather, lint, dust, paper, and occasionally cotton, linen, silk, and even on synthetic fibres.
They are especially damaging to fabric or rugs stained with beverages, urine, oil from hair, and sweat. Most damage is done to articles left undisturbed for a long time, such as old military uniforms and blankets, wool upholstery, feathered hats, antique dolls and toys, natural bristle brushes, weavings, wall hangings, piano felts, old furs, and especially wool carpets under heavy furniture and clothing in storage.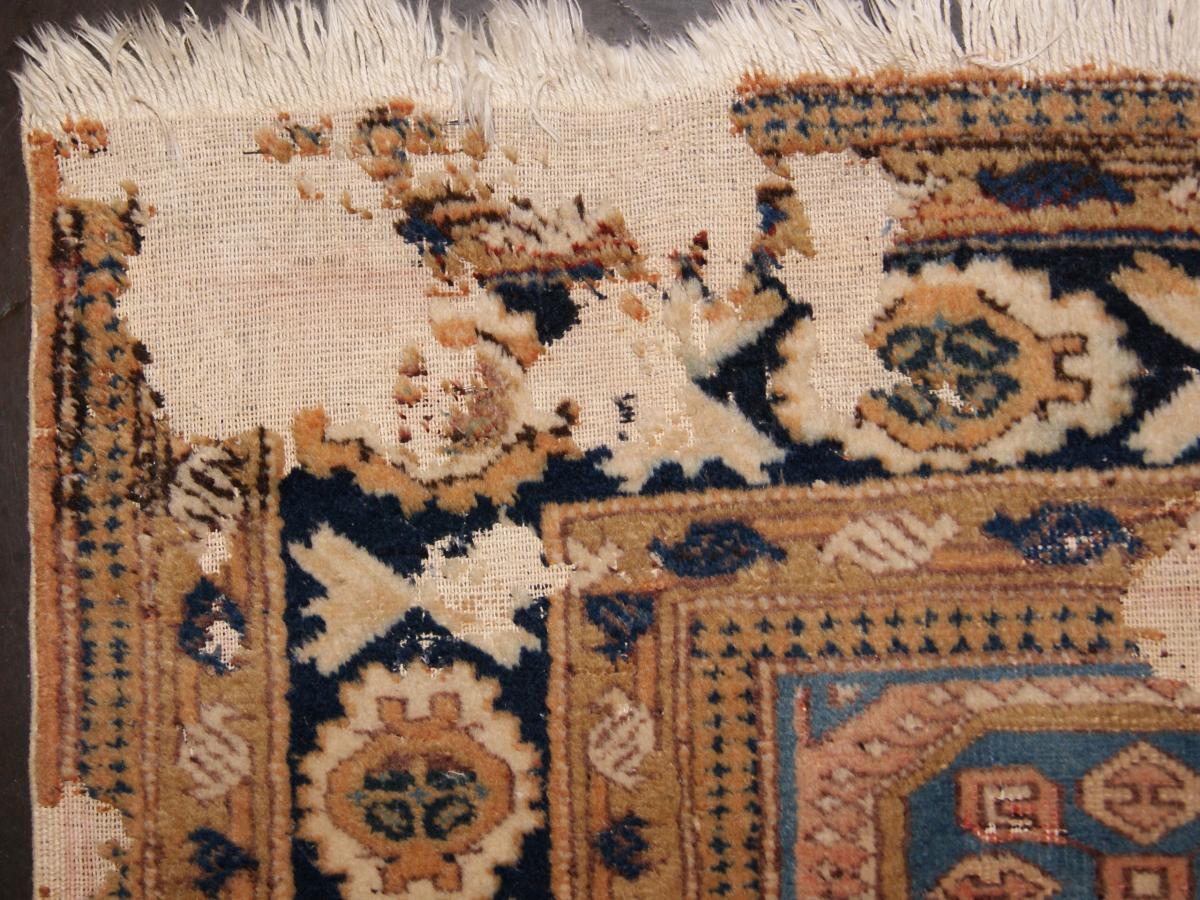 Damage from moth larvae and other household insects can be avoided as long as the rug is cleaned regularly (vacuuming) and is exposed to light. If part of your rug is hidden under furniture then it is essential that it is regularly vacuumed as this is the ideal breeding ground for rug-eating insects.
If moth grubs or carpet beetle are discovered, then immediately contact us to stop any further damage.
This kind of damage is a result of late repairs by the owner of the rug. This is one of the most common types of damage. Thread damage is due to wear and tear of the rug over time. This can be easily fixed but may depend on the severity of the damage.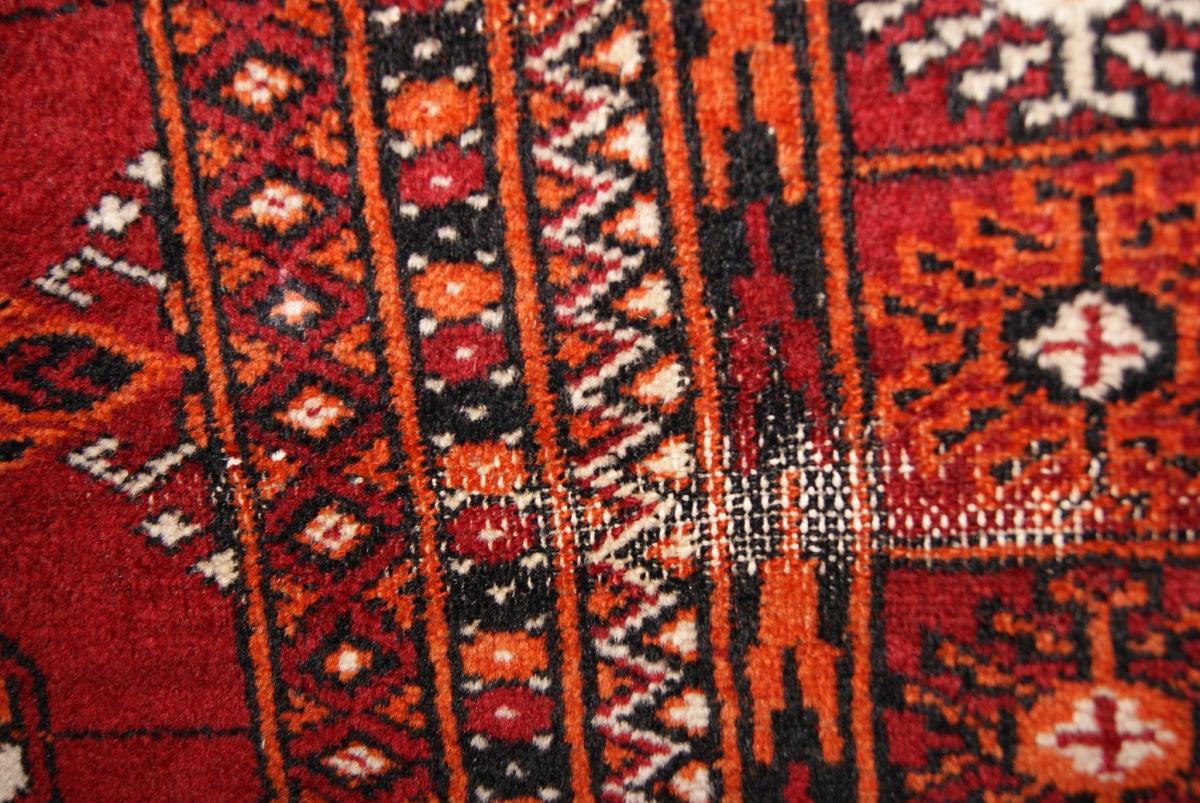 A: Fringe is the Skeleton of Your Rug. Most rugs have white cotton fringe tassels, and others have wool or silk tassels. Some rug owners like the look of the fringe on their rugs, others find it frustrating to always be straightening them, or keeping them from getting caught in the vacuum cleaner (that is why you vacuum from side to side instead of from end to end).
But, the fringe is not just a pretty way to finish the rug , it is actually the foundation fibres of the rug. The rugs skeleton. Each individual tassel that you grab in your hand runs through the middle of the rug all the way to the other end, emerging as another individual tassel on the opposite end.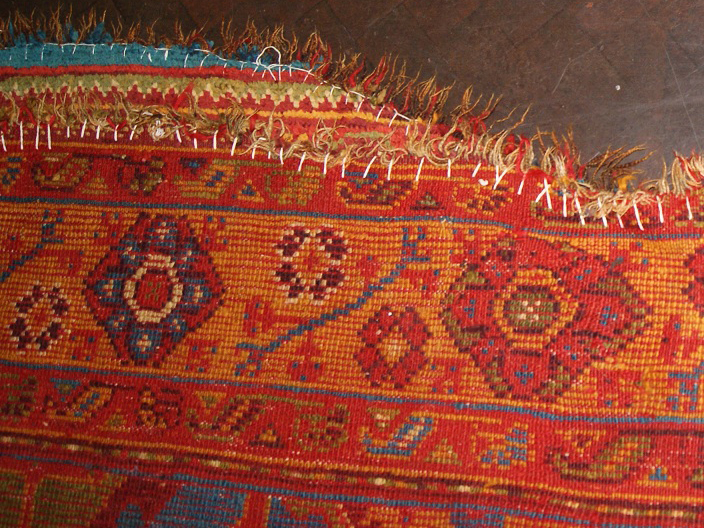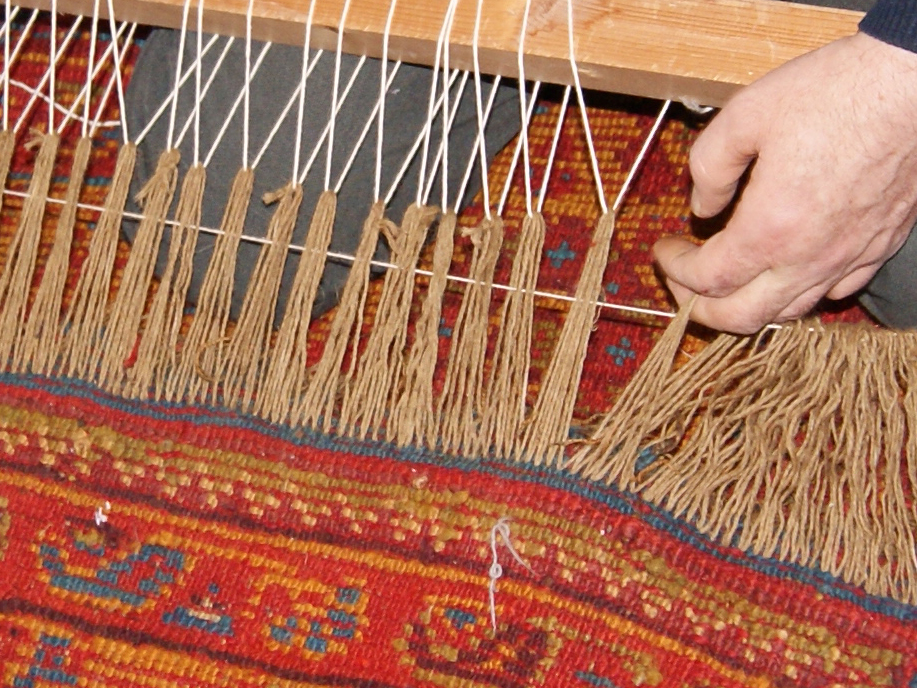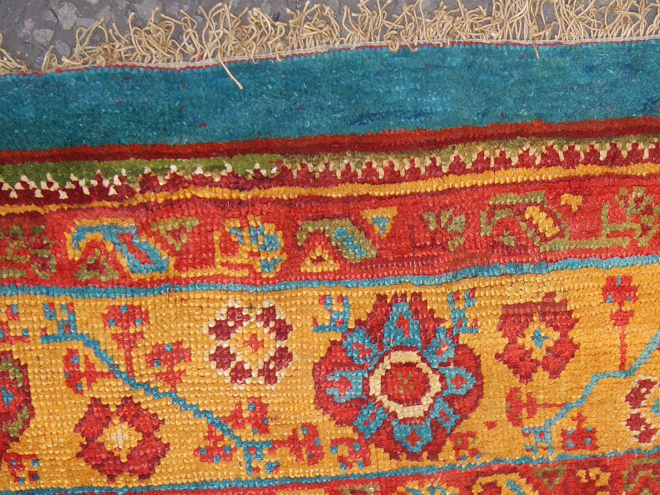 A: This is the most common form of damage as accidents do happen to the best of us especially those with children, but can also be removed in most cases. First step is to make haste and dry the stain up if residue is left behind and your unsure of what to do, please contact a cleaner for advise to rectify the problem.
A: Pets can cause serious damage to oriental rugs from soiled areas to chewed or clawed fringes or borders.
We provide a full restoration service for all pet damage. Intractable animal stains will not be extracted from a rug by means of simple cleaning. Our experienced staff will remove an animal stain of any age imbedded in a rug. If not addressed, an animal stain containing uric acid which can be extremely harmful to the rugs fibre.

Pet urine can cause permanent damage to your floors and fabrics. Pet odor can also create an unhealthy indoor environment. When urine is first deposited onto a carpet or fabric, it has a pH of 5 or 6, which is on the acid side of the pH scale.